Good Practices For All Realtors
Posted: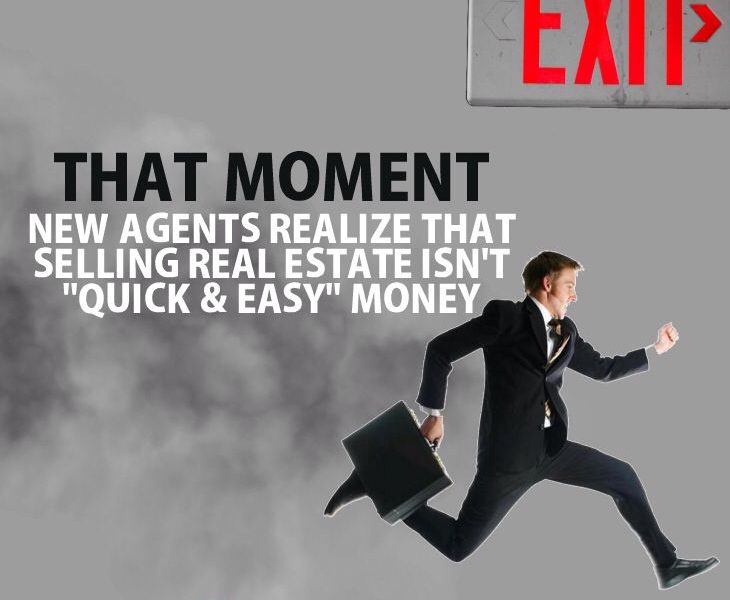 In light of the many challenging and difficult situations I've seen playing out within some of our deals here at Domain, my thoughts this week come as a word of encouragement to us all. Real estate can be a constant ever changing roller-coaster of sporadic events and heightened emotions that clash during one of life's major purchases.
If we don't handle our business with skill, care, and diligence and continue to learn and grow, there's a good chance the overall success of our business will suffer as a result. This is why it's so vitally important for us to keep sharpening our skills and stepping up our game in order to achieve true long term success.
It's not easy money like some people think….hence why I love this cover photo!  Regardless if you're a newer agent or one with years of experience these are all things we should be focusing on in order to enhance the positive results within our daily lives and business:
First off, real estate is an Emotional business and if not channeled properly it can be a destructive force in relation to our decision making process. Learn to stay calm and think rationally. Don't let emotions cloud your judgement and you should never respond to anybody when you're upset. Learn to allow yourself ample time to process things so you can logically think through the situation in order to make an informed and rational decision.
We must be good Problem Solvers. Expect issues and even anticipate them so we can learn to avoid them all together. DO NOT waste time complaining…..it's counterproductive and nobody wants to hear you whine. Always stay solution oriented and find ways to get creative or to think outside the box. Every deal has it's own issues…….you need to find the solution. The better you can do this the more closings you will have……I promise you that.
A lot of the direct value we provide as realtors has a lot to do with your knowledge of the current Inventory and Communities. Know them well……types of homes, amenities, fees, pros/cons, and even the history of it. This will help your clients tremendously and help you earn more business because as crazy as this sounds………people happen to like working with knowledgable professionals.
If somebody asked you right now…….How's the Market doing in SW Florida or in Naples? Can you comfortably answer that? You should be able to and if not, I would second guess if you're the right person for the job. You should know inventory is up, new construction is everywhere, interest rates are very favorable right now, and even have some %'s to talk about regarding pending and closed sales.
Own your Mistakes. We all mess up from time to time and when you do, it's always the best choice to own up to it. Learn from it and do what you need to do to make it right. The best lessons I've learned have stemmed from my own mistakes and when we learn to take some ownership and responsibility for actions, the parties effected might not like it but they will respect your honesty.
Demand respect and never allow anyone to walk all over you. Whether it's a lender, a client, or another realtor……know your worth and be confident in your abilities. If anybody tries to take advantage you can respectfully set them straight. Be clear, concise, and stay to the facts.
Know the Contracts! This is an important one. How many of you have actually taken the time to read through and understand the terms of our Far/Bar and/or NABOR contracts? It's amazing how many people don't understand the basics when it comes to financing or inspections. You should know the basics but even better, Use an Attorney! They will save you and me a lot of headaches.
Celebrate the Small Steps……this is the growing foundation for your business and life. Reward yourself by acknowledging the minor achievements within our daily grind. These are the building blocks of life and it's important for them to be appreciated. It's these small wins done consistently over time that amount to our big long term successes.
Stay Professional at all times. I know some people can be ruthless or even frustrating to deal with and it's easy to want to blatantly speak our minds. Well…..it's not a good look. Be the bigger person and stay professional. If somebody crosses the line……call your broker, their broker, or even the board. Do not stoop to subpar levels…..believe me people will notice and it's a small town here in SW FL.
Stay Positive and Remove Negative Things or People from your life. They say we become products of our environment so why allow this noise into our lives or let negative energy bring us down? We don't have time for it. Negativity gets us nowhere so eliminate it all together. Make the decision to be more positive and optimistic.
The point of all of this is for you to focus on certain areas you might be struggling with and coming up with a plan to improve your position. I am confident that if you focus on building the core skills of our business you will begin to naturally attract more and more business as a result. We need to stay positive, focused, and live our lives with more intention. Things don't just "happen" to us either……it's a result of the things we do. Let's choose to be better together.  My door is always open to help!
Quote I Leave You With:
"May you have the courage to break the patterns in your life that are no longer serving you".
Cheers to you all!
Adam