Understanding the Big "Why" In Your Life
Posted: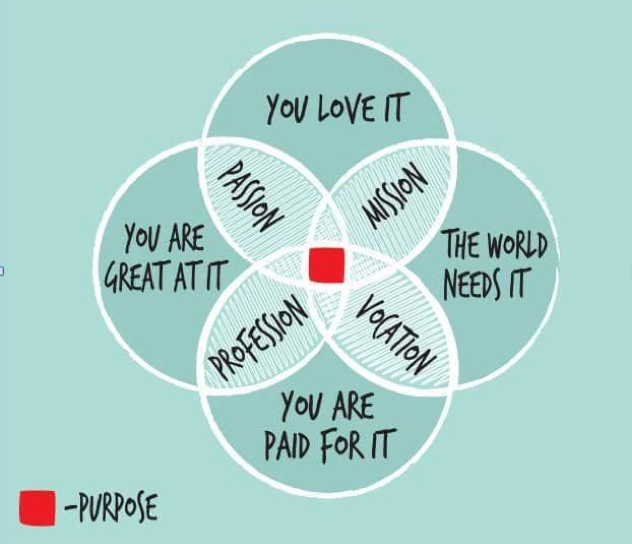 First off, Happy 2019 to you all!
With it being the kickoff to a New Year I heard a lot of talk lately from life or business coaches discussing the big "why" in our lives, that same "why" that could ultimately drive or dictate our day to day attitude and/or actions.  It's the core purpose and collection of motivating factors as to why we choose what we do in both business and personally on a daily basis.  This "why" can also be fluid at times, essentially shifting as we progress and grow as people or even when our circumstances change.
So the question becomes:  What fires you up or what makes you tick?  What gets you out of bed in the AM?  What is your primary motivation in life?  What do you live for and what things make you happy?  Can you comfortably answer any of these questions?  Few of us are lucky to fall into our sole purpose in life whereas the vast majority spend years enduring trials and tribulations seeking those specific tasks, hobbies, and careers that ultimately connect with and fire up your soul.
I'll be honest, these are tough and loaded questions to answer because it will greatly depend on the actual people themselves in relation to values, passions, and visions for life.  How young/old we are, our life experiences, how we were shaped by our upbringing, or even how we're wired as people can come into play.  The key to all of this is to have a better understanding of who YOU are as a person and what makes YOU tick, but also being honest with ourselves so we can then implement any necessary change within your life in order to live closer to a true sense of "why" or purpose.
In order to gain more insight and clarity to these important questions it can be a useful exercise to write down on a piece of paper all the things that you truly love to get a true sense of the driving forces in your life, meanwhile also recognizing the areas you don't enjoy as much either so we can choose to live with more intention and conviction.  Take a close look at your day to day actions, how they make you feel, and then write them down into 2 columns for both the positive and negative aspects of your life.  If we can build on the things that bring out our best……..each day we grow that much closer to leading a fulfilling and purposeful life.
As a former competitive athlete this "why" conversation has come up often.  I was fortunate enough to play a professional sport so my "why" was pretty easy to figure out…. at least for the early stages of my life.   I loved soccer, I loved competing, and I wanted to play D1 college then ultimately pro.  Fast forwarding a bit, one of the biggest challenges I had after hanging up my boots was transitioning into a new career that offers the same "why" or sense of purpose as I had previously felt on the pitch.  I'll be honest, I was lost for a short while and really lacking career purpose in my life.  Once I began practicing real estate I was drawn to it from the start and over time my passion grew tremendously……..although it might not have been as obvious or apparent from the start.
Here are some of the most common responses as to "why" people choose real estate:
To provide and support a family.
Love taking the time to meet, connect, and help new people.
Love the challenging aspect of this business and finding ways to solve the many issues than can arise.
The income potential without any real ceiling, you get what you put into it.
The fast pace is exciting and keeps me on my toes.
Your just flat out great at dealing with people and selling real estate.
It connects us with our community and feels like purposeful work.
Enjoy homes in general and love playing matchmaker with their needs and the market.
You are great with numbers, understand market value, and cash flow.
Me personally…..I love the internal satisfaction I feel after helping people buy or sell a home and they excitement they feel to start a new chapter.
As working professionals, many of us eat, live and breathe the fields we compete in and it becomes a core fiber of who we are.  I can say with the utmost confidence that real estate, although challenging or even frustrating at times, can also be a very rewarding career path both internally and financially.  We get to help people with one of life's largest investments ie buying and selling homes which can also be an emotionally charged process that we must help counsel our clients through.  We take the time to get to know them and build a strong working relationship, understand their real estate goals/needs, educate them on the market, and then ultimately guide them into a sound purchase/investment decision.  In some cases we become friends.  Real estate is very meaningful work when you break it down.
Taking it a step further, what other things besides real estate fires you up or helps contribute to your purpose and the big "why" of your life?  What other task do you do throughout the week that have a positive impact on your mood, feelings, or overall production that's not tied directly to your career?  For a lot of us the driving forces in our personal life will dictate whether or not we excel in other areas of our life so finding the right balance to bring out optimal performance is the key for all of us.
Some other positive influencers include:
Spiritual or Faith Based:  This is a solid foundation for many of us providing stability and meaning in our lives.  If you're a fellow believer I highly recommend reading "The Purpose Driven Life" by Rick Warren.
Working out or Running:  Helps us look and feel better which translates to higher energy and more confidence.  For me, working out is my therapy and it keeps me balanced while providing more energy.
Traveling:  Some people need to travel to help create a healthy work/vacation balance.  Getting away clears their minds and generally come back refreshed, amped up, and motivated to hit it hard.
Hobby or a Sport: This is the best outlet for many of us.  Whether it's a sport, crafting, card games, gun range, hiking, kayaking, fishing, etc it's all about finding a happy relaxing place where you can truly clear your mind and balance your soul.  For some I know that's impossible!  But you do have to try.
Public Service:  There are a lot of benefits to come from this like building new relationships, being an advocate for issues in your community, you're involved with meaningful work, it's a chance to give back to the community, and you tend to learn so much from other people around you.
The whole purpose of our big "why" is to find true meaning in our lives and operate from a place of passion as much as possible.  If we're able to align our passion and happiness with our day to day activities…..you will experience the trifecta effect and chances are your level of production in all aspects of your life will be far greater than you ever imagined.  Even those who are lucky enough to know for certainty the "why" of their lives, let's be honest it's still not all sunshine and rainbows folks.  This is real life and we'll always have ebbs and flows throughout the course of time regarding our balance, mood, feelings, and overall production.  It's more about being as consistent as possible to yield continously improved results.
The more you can focus on finding what truly connects or drives your soul and then be conscious enough to actually take the necessary ACTION to implement change within your life, the more satisfaction you'll feel when looking in the mirror at the end of each day.  Happiness like success is not a destination…….it's a journey that is always fluid and evolving. Let's just hope we keep evolving in the right direction and with a little bit of thought and intention, anything is possible.
Cheers to you all as we begin 2019 and let this be a year of growth and improvement for us all!
Adam
Quote I leave you with this week:
"You were put on this earth to achieve your greatest self, to live out your purpose, and to do it courageously." ― Steve Maraboli