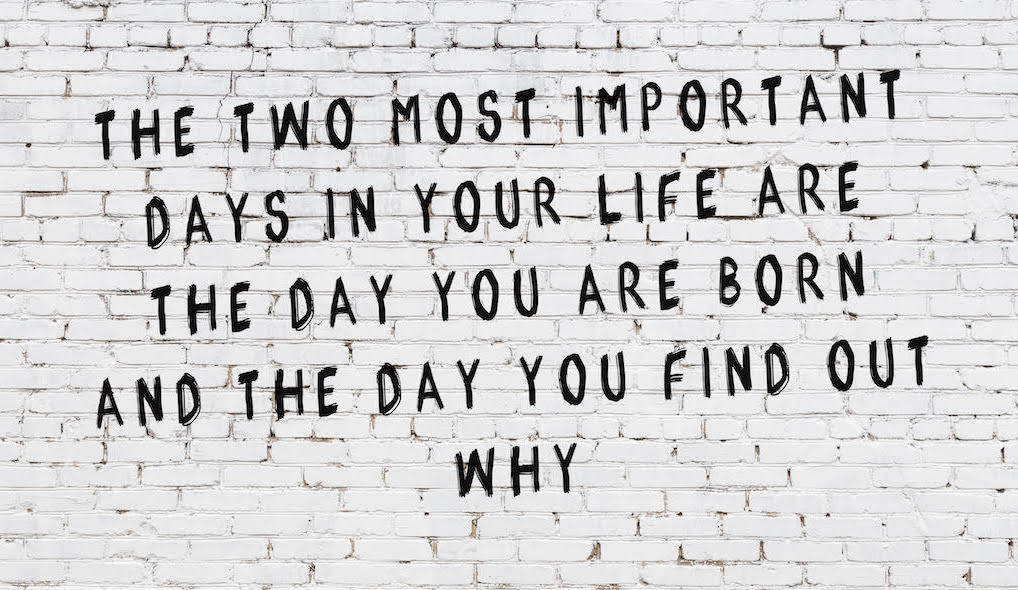 Happy "Philosophical" Friday!
Today I wanted to depict some thoughts (non real estate related) that I've been stewing on and yes, it might come in a bit of analytical fashion.  I read this quote a few weeks ago that seemed to grab my attention in that very moment and sure enough, this same topic was talked about in church this past Sunday.  It got me thinking….. and of course I felt compelled to share with you all 🙂
"The two most important days in your life are the day you were born and the day you find out why"  — Mark Twain —
Being a purpose driven man myself…. I am constantly addressing the "why's" of what we do as human beings and really trying to better understand who we are as people.  It's about recognizing the purpose of our being or existence, our place in the world, and the catalyst for our day to day living.  It's about finding true happiness, contentment, and conviction within yourself in the midst of our daily and often times chaotic lives.  But most importantly…. if's about finding that internal happiness that drives us to lead a life full of purpose in everything we do.  There's no right or wrong answer either….. there's only living your truth.
At the root of it all….. there are many foundations or outlets within our lives that we often lean on to enhance the levels of our internal well being or sense of purpose such as family, faith, loved ones, friends, job/career, health, wealth, hobbies, volunteering, philanthropy, or even athletics.  But for me, it's more than that.  It's about taking an honest inward look at yourself…. understanding who you are, what you truly believe in, what makes you tick, and recognizing & amplifying the strengths of your character, while at the same time, understanding your weaknesses and being ok with the fact that there are some things we're not good at.
As we live our day to day lives throughout the course of time, it's interesting to see how our identities, purpose, or place in this world can be fluid and shifting as we progress through the seasons or stages of life.  The places we find our "happiness" or the things we do to fulfill our soul are ever changing and evolving as we continue to grow as people, but nonetheless, still the driving forces of our life. The key to all of this is about actually doing the things that fulfill you, listening to that "inner voice", being honest with yourself, and leading a life with more internal purpose.   It's that saying…. you either run your life or it's going to run you.
I was recently talking with a friend about this very topic and the truth is…. we all have struggles or difficulties with some aspect of our lives.  If we didn't we wouldn't be human.  The real question becomes though…. do we continue to coast through life letting things be as they happen while accepting at face value……. or do we make the choice to live a daily life that includes putting forth a conscious effort to understand the genetic makeup of our being and driving forces of our soul while implementing and reinforcing the natural thoughts, habits, desires, and attitude to help shape the positive outcomes we wish to achieve.
I don't know everything or have every answer about myself, but I do know one thing for certain….. all the little daily habits, positive reinforcements, and purpose driven actions performed within our lives (done intentionally and consistently over time) will without a doubt yield positive change or energy in your life that is real and tangible.  It can be seen, it can be felt, and at times, fulfill every bone in your body.  These "why's" of our life are generally rooted from a place of conviction, passion, and drive, so it's only natural they provide the fuel for our souls and become the catalyst for our day to day living that does in fact have a direct correlation to long term foundational & sustainable happiness.
We all want positive change in our lives and to live the ultimate goal of being happy, right?  Rather than looking outward and expecting the natural forces of the world to bring us the positivity or change we so desire in our lives…. it's about taking a dive down inward to identify your true happiness and purpose from within your soul that will in turn lead you to a more fulfilling life as a result.  The first step towards finding this happiness is deciding not to stay or be content where you are.
Take action.  Listen and understand who you are, why you do the things you do, lead with passion, and find ways to best utilize your strengths as we continue to grow in our respective paths.  Be patient & understanding with yourself, enjoy this beautiful journey, and always be living your truth.
I leave you with this…… my man John Lennon hit it on the head: