Working Internet Leads……….Bad Leads or Bad Mindset?
Posted: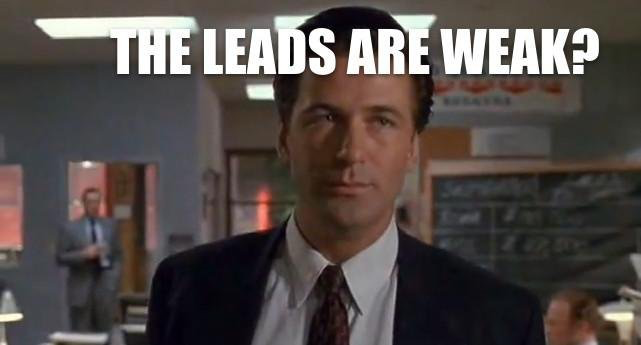 Although there's no shortage of places for us to generate leads in today's real estate market…….the main focus here is intended for those agents working organically generated or paid for internet leads.  First off, let me say I've been blessed to know and work alongside some of the most brilliant minds in the real estate business especially when it comes to lead generation.  You name it…..we've probably done it and all I can say is LOTS of trial and error was required…… and still is today.  As of lately I notice a lot of talk in certain real estate forums or around the water cooler per-say about lead generation and the quality of leads.  The general consensus……..the leads suck or better yet, the leads are weak as indicated above directly by legendary sales expert Glengarry Glen Ross!
Sure, one can argue the industry is vastly watered down at the moment not only in terms of agent count but also any affiliate business or industry tied to the real estate business as the truth is, real estate is one of the economy's main catalysts.  So understandably we need to be careful that the company we hire to generate leads is in fact legit and has a track record of proven results.  Having said that, there's plenty of good lead generation sources and the key to all of this beyond the quality of leads is your ability to connect with people, offer value, and communicate well.  
Not every lead will appear to be a good lead but it's a longterm big picture type of approach where one of my favorite quotes really hits home, "the day you plant the seed is not the day you bear the fruit".  It's understanding that some people are just looking and very early in the process…..if it ever comes to fruition.  It's learning to ask the right questions in order to better understand their situation so you know how to best serve them……if at all.  Please keep in mind the goal with lead generation is to find buyers and sellers that are likely to make a real estate decision sometime whether now or in the future.  Not every person will get the same attention but that doesn't mean we should neglect watering the other seeds all together. 
In laymen's terms……..it's all about the initial approach, your ability to break the ice, offer direct value to them, and have an insanely disciplined follow up schedule because in reality it's all about timing.  We're always quick to find an excuse……the leads suck, nobody answers the phone, bad information, not enough leads, or whatever excuses we use because we didn't achieve instant success.  For those of you who don't know…… the industry average for internet leads is generally around a 2% to 4% closing ratio and it can take on average 12 to 18 months from initial lead to closing.  Furthermore, 50% of contacts are finally made after the 5th attempt and what's even more bothersome is that 80% of agents give up by contact #3 as shown on the chart below: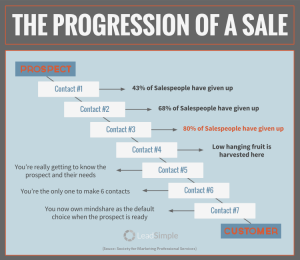 ***NOTE:  A truly successful real estate business should involve a multitude of lead generation activities and not rely solely upon any one given source.  The ultimate goal is to build a referral based business around you.  Having said that, here's some tips that can help:
First Contact Strategy:
Respond Quickly:  Today consumers expect fast efficient service, we live in an instant gratification culture. If you don't connect right away within 5 minutes the chances of connecting goes down over 200%.  and wait 6 hours…….. it's 3,000 times less.  Speed to lead is vital.

86% of leads feel that respond time is "extremely important" when deciding on their agent.

96% of Internet home buyers expect a call within 4 hours of their online inquiry.

The FIRST agent to respond has a 238% better chance at conversion. (65% success rate)
First Impression is Key:  This will set the tone for future encounters and dictate whether or not they want to work with you.  They must trust you and establish you as a local expert.  Being upbeat, helpful, and considerate of their time shows them some good faith. 
Perfect Your Intro Pitch:  You have to quickly establish value and ask the right starter questions to get them engaged.  Include something of relevance based upon their search. Finding common ground and connecting is SO vitally important.  Don't come off scripted or in-genuine…..be a human being and drop the sales'y approach.  
Prove Your Value From The Start:  Have all relevant info ready to go….new builder information, school zones, market trends, property/community details, etc.  Always offer VALUE!!!  Without it, why should somebody work with you?  
Respect Their Schedule:  Yes, people are actively looking for homes, but that doesn't mean they can drop everything and talk to you.  If they are stand offish or sound busy see if there's a good time to call.
***NOTE: These aren't cold calls nor are they exactly warm calls either.  They did provide their contact information voluntary and most would be open to at least a conversation if approached the right way.
Be patient:  Not every lead is ready to buy and it's not uncommon to take well over a year, if not several.  Take time to answer questions and build a relationship.  Always be planting seeds and think long term.  We research, council, advise, & make recommendations to help them make informed decisions.  Please keep in mind that for most this is the single largest investment or purchase they'll ever make.  
What to Say and Not Say:  Sometimes Realtors talk too much or try to "sell themselves" too hard which can easily backfire.  Be clear, concise, and to the point.  You can throw in comments to establish your credibility, but let's not forget this is all about them.  Use any of the data collected with the lead as a gateway into the conversation.  Which leads us to the next point……
Ask the Right Questions and Be A Great Listener:  This is the key to it all if you want to break that first contact barrier.  Find trigger points or understand their motivation.  Are you familiar with this area?  Have you been here before?  What are the most important factors for you?  What do you see yourself doing in this area?  
Don't Give Up:  It can take 10-15 contacts before you even get a response.  Before moving a lead to "trash" I would make sure you either find out they are deceased or you get a definitive no.  I've seen some crazy turn arounds…….like years of no response all for them to surface ready to go and guess what…..they came to the Realtor that found a way to stay connected with that person.  
Always Get the Apt:  A face to face meeting would be ideal and your chances of actually retaining them as a client will significantly increase.  If that's not possible due to being out of state or they're just not ready to meet, at the very least get a commitment for your next follow up call.  
Then Comes the Nurturing:
These people have a higher probability of becoming a client but might not be ready at this time and keeping in touch so they don't forget about you is one of the toughest parts of real estate.  The most common mistake for agents to make is spending so much time "attracting" new customers yet skimp on the effort it takes to "create" loyal clients.  The goal is to stay in front of prospects in a way that creates value rather than annoyance.  The pace and tenor of follow up may change over time, but it should never just stop because the prospect wasn't ready to buy immediately.
Start With a Welcome Letter/Email:  After your first conversation it's vitally important to follow up with them thanking them for their time, establishing a plan, talk about the expectations of your working relationship, and letting them know you're here for them.  Briefly showcase what added value you bring to the table and perhaps educate a bit on how this process works.  
Keep Them Coming Back to YOUR Website:  Obviously property drips are a big part of what we do and can be powerful if used properly.  This keeps them engaged and they are seeing your name as often as possible which helps keep you front of mind.  You can also track the data analytics allowing much insight to their interest, motivation level, properties viewed, favorites, etc. 
Utilize Social Media:  Use Facebook or LinkedIn to keep in touch and establish more of a relationship.  Easy way to learn more about people which helps strengthen the connection.  This can be used to drive leads back to your website using teaser content. 
Educate Them:  Mortgage process, home inspections, insurance, etc.  Find videos explaining all the 101 or blog posts that could be helpful to them.  Provide content.  Connect them with qualified vendors to answer any in depth questions they may have.  
***NOTE:  Most online leads are captured early in the buying process.  Don't be in full "sell mode".  You must take time to understand their position, timing, and overall needs.  This is when you get the "sorry I'm just looking response".  You must know how to handle this situation to still earn the relationship.
Be Consistently Helpful:  By staying in front of them and always providing value, you've positioned yourself as the trusted advisor and continuously build on that trust over time.  Touch as often as you can without overdoing it or becoming a spam type agent.  Always provide real tangible value and depth with your insight.  
Don't Quit or Drop the Ball:  Believe it or not this happens so much in today's market.  An agent can have a great hour long conversation with somebody but then fails to follow up with this person over time.  It's takes a good 6 to 8 contacts before a relationship is really evident.  Don't let them forget about you.  And don't let them slip through the cracks either.  You did the hard part……now just keep in touch!
Converting Leads to Clients:
This is the transition from somebody who's been in a holding pattern due to timing issues or just not being quite ready.  But now they are!  It's the moment when "not now" becomes "let's do it".  What every agent wants to hear! 
***NOTE: Most internet leads take 6 to 18 months to convert.  The average home buyer starts searching 2 years prior.
Give Them Your Attention:  They have made the decision to "go" so these next steps are critical in maintaining your helpful status as their agent.  You didn't work hard for so long to let it go now!  You should be in touch with them as often as possible with news ideas or opportunities brining them one step closer to contract.  
Target their Needs and Hot Buttons:  You should be well aware of their situation at this point but maybe reiterate the details to ensure you all are on the same page.  At this stage your recommendations for certain areas, communities, or properties need to be dialed in.  
Be Available:  They are ready to tour homes and have lots of questions.  Respond ASAP and be thorough.  Lots of questions and investigation occur and you must take the time to address them in their entirety while making your clients feel comfortable.  This is also when you can be great for them and possibly earn future referrals.
Be a Master Facilitator:  From showings, to research, offers/contracts, and the many post contract steps involved with a real estate transaction……your ability to line everything up while making it as seamless as possible is what really showcases your expertise and earn your clients trust handling a process that's rather nerve-racking for most buyers or sellers.  No detail is too small and empathy is required.  
Ways to Improve Your Follow Up:
Use a Follow Up Schedule:  This is a MUST. Without structure your leads will slip through the cracks.  Once a relationship is established you need to customize an appropriate follow up schedule to maintain your presence and stay front of mind.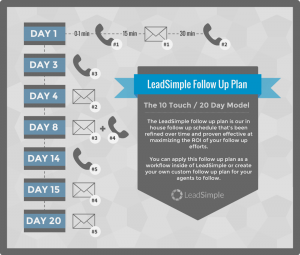 Try Using Different Contact Formats:  It's no secret that email is quickly losing its luster when compared to text messaging, video, or even communicating via Facebook.  But it's important to try them all because some people will be preferable to either talking directly on the phone, some like video chats, where as others are vigorous texter's.  Per a recent study, email has a pathetic 20% open and read rate where as text is 98%.   No brainer!
Vary the Time of the Day:  This is important because although some people may be surfing your website right now doesn't always mean they can chat now.  Stagger the times of your contacts and believe it or not Wednesday and Thursday are the two best days of the week and time frames between 8-10 and 4-6.  
Leverage Email Templates in CRM:  This allows you to quickly touch your database without having to re-type the same email over and over again although you do have the ability to make quick customizations before sending.  
Time Block & Get Into Prospecting Mode:  Following up is an activity that requires energy and emotion.  Don't allow interruptions and stay focused.  You get momentum so use it.  You need to find your right state of mind and just attack it.  Do not get in your head or over-think it either.  
Always Follow Up With Value:  This is the MOST important part.  Not just a "Hey, I'm just checking in to see how the property search is going", but rather, "Hey, I know you're still early in the process but I saw this new construction home just completed and they've slashed the price 20k and are willing to throw in 10k in closing costs. I know you might not be ready but wanted to make you aware of the opportunity".
Connect with More People:  It's a number game folks.  The more leads you contact the more closings you'll see as a result.
In Summary:
Our goal is to break the ice, establish a relationship, educate them, highlight the parameters and expectations of our working relationship (once enough rapport is built), ADD VALUE, and most importantly maintain an appropriate follow up schedule to properly water that seed.  During your follow ups, it needs to be something more than a casual follow up, there needs to be depth and value to what you offer.  If we don't find a way to consistently be there for people and offer insight beyond what most can google in today's world, unfortunately we'll find ourselves struggling to establish a strong baseline of clientele that can ultimately become the fuel for our growing business.
Instead of complaining about the quality of leads I say we focus more on our own personal approach to pursuing these leads in order to achieve true long term success in the real estate business.  Shift your mentality to planting seeds and understanding it's merely a numbers game.  If you learn to become a good prospector by connecting with more people and if you do this for long enough, I can promise you that you'll never worry where your next closing is coming from because you'll have a farm full of seeds that are constantly turning over to new business and active clients.
Happy Prospecting!!!